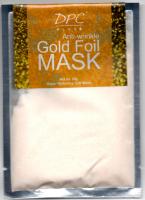 DI-498S
Gold Foil Mask
Description
This anti-wrinkle gold foil powder mask contains nano-gold, a popular ingredient in Europe, Japan, and Korea, to effectively increase skin elasticity and helps tighten and reduce wrinkles.
Purpose
Nano-gold also hydrates and firms skin, leaving it smooth and radiant..
Application
Stir soft mask and pure water at a 1:1 ratio. Apply paste onto the face, leave on for 20 minutes, and peel off.